I went on vacation to Paris, my friends. It was amazing in a lot of ways. The food (!!), the art, the history, the cultural differences (some of which were awesome), and just getting out of town were all fabulous. I also learned a lot about myself because…wherever you go, there you are. It was a good trip in many ways. I'm still chewing on some of the inner work I chose to look at while I was there; I'll post about that later. For now, just some fave photos.
::: ::: ::: :::
Of course, let us start with le Tour Eiffel. This was taken from next to the Museum of Architecture, which, not high on the list of most tourists, was actually really informative and interesting. They took casts of some of the important buildings in Paris (i.e. the upper reaches of Notre Dame) so that you can see the details up close.
The Eiffel Tower is enclosed (after the terrorist attack of 2015), so you have to get through security to go up, but it's worth the time and effort. The science and architecture is amazing, as are the views.
Rooftop gardens seen from the Eiffel Tower.
A view from the Eiffel Tower, looking at Sacre Coeur church on the hill in the distance.
We opted to stay out of the Louvre (if you go, either plan to be there for three days, or pick what you want to visit beforehand and focus on that), and instead we visited the Musee D'Orsay. I had my fill of Impressionists (Monet, Manet, Cezanne, Renoir, Degas); it was fantastic to see the paintings from my Humanities courses in real life. For me, the Art Nouveau section was the best, though. The skill of the crafting of that era always blows me away. I wept for the beauty of it.
We also visited one of the largest and most famous cemeteries in the city: Pere LaChaise. Many famous people are buried here, not the least of which is Oscar Wilde. The mausoleums were incredible. Rows and rows of tiny, ornate, gothic structures dedicated to the afterlife. It was beautiful and macabre, which I love.
There was even a famous broad from Boston there.
This is actually a fountain on the backside of the Museum of Architecture. There are a lot of fountains around Paris. Not all of them this grand.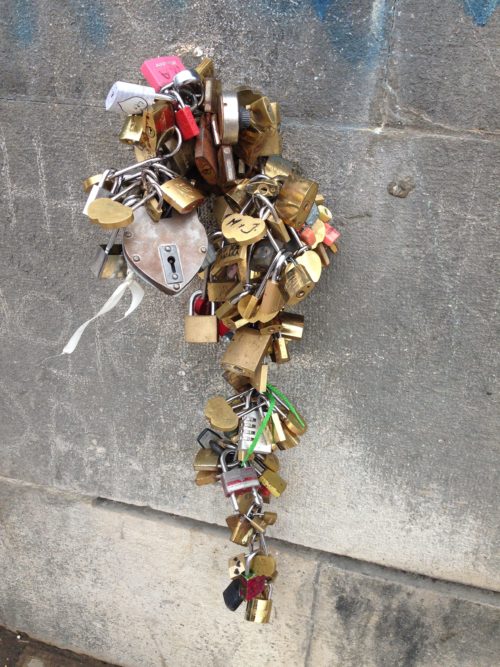 The "Lock Bridge" is no longer, but that doesn't mean lovers don't find ways to keep up the tradition. We saw this on a walk along the Seine. (We also saw a couple fighting about their lock at another place. Ah, the City of Love.)
We did not visit Montmarte, an area well known for its artists and the location of the Moulin Rouge. But there was plenty of street art to keep us interested. We saw several works from Invader.
This was not the whole of our trip. There were other museums, boulangerie's, many cafe's, and lots of just walking around and noticing Paris. We stayed in a neighborhood called Les Lilas (The Lilacs) in a spare, well organized apartment inhabited by someone who won the French version of a Tony (called a 'Moliere') for her work in costumes. She had the most amazing library of fashion books. We learned how to ride the Metro – always wear your Resting Bitch Face, because nobody smiles (in fact, it would be considered flirting to smile at someone). I had one of the most tasty meals of my life and also a lime sorbet I will never forget.
Paris was a delight for the senses. I can see why they call it the City of Love, but it's just a place where, if you are from out of town, you can be utterly stunned on a regular basis. Which is pretty cool. Paris was not necessarily a place I felt at home (in the way I do when we go to England), but it was most certainly worth our time and money and I will visit again. Paris changed small things in me; it was beautiful in every way.
::: ::: ::: :::
Love from the path,
Joanna :: xoxo